Sometime during the summer, people who looked back on last year's UNC game decided that UNC defended us "well" and had an idea how to stop the option. I contented that they obviously hadn't watched the game or looked at the stats other than the final score (28-7).
Unfortunately, before I could start the reverse trend, it got picked up in the media and combined with last week's debacle at Miami everything just snowballed. Now everyone believed it!
And, well, have a look at some stats: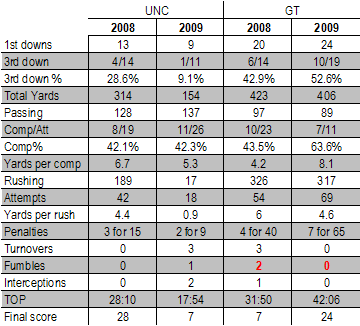 Gee, GT's stats look awfully similar, don't you think? Especially in terms of rushing yards? Notice the biggest single difference? Yeah, that's right, turnovers. GT muffed a punt and fumbled the ball, both leading directly to UNC touchdowns.
Of course, there were other factors that caused the opposite outcome this time as well. We basically never let them have the ball, which meant the defense played well (especially against the run, still need a little work on the pass rush). Also, Nesbitt had an excellent day passing, completing 63% of his passes plus a couple of balls that should've been caught.
All-in-all, a good win, and with Miami getting routed in Blacksburg, the Coastal is open once again.